With an emphasis on style and utility, the all-new Audi Q3 is creating a lot of buzz. The Q3 combines a striking coupe-like design with the convenience and versatility of an SUV.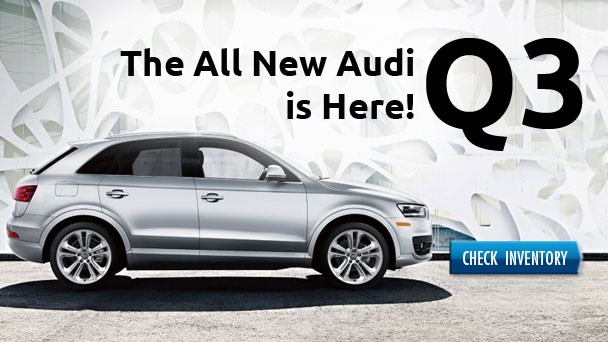 Auto Reviews
Auto Reviews
Auto Reviews
People place a lot of stock in the old adage that "bigger is better." That somehow the quality of something is instantaneously and undeniably enhanced by its size. By this logic, smaller is cheap and therefore undesirable.
Special Offers
Special Offers
Special Offers
Audi is offering $3,000 towards the lease or purchase of a new 2014 A6 TDI
Offer available to an owner or a member of an owner's household where a model year 2001 or newer BMW, Lexus, Mercedes-Benz, Acura, or Infiniti vehicle is currently registered
Featured
Featured
Featured
Q3 launch drives strong sales of all-new A-segment family
Sales for the most recent month rose 14.2% to 14,917 vehicles
Audi was the first OEM to gain a Nevada autonomous driving plate in 2012, and the first to test on new Florida connected car expressway

New California laws governing the testing of automated driving went into effect as of September 16, 2014
Incentives up to $5,000 towards the purchase or lease of a new Audi

This incentive offer is extended to individuals or businesses that currently own or lease a 2001 model year or newer Audi model
Audi and AT&T now offer drivers the option to choose a plan that best fits their data needs and lifestyle
- Pricing is set at $10 a month to add a model with Audi connect to an existing AT&T Mobile Share ValueSM plan
- Also available is a monthly data plan for customers with an A3, S3 and Q3 model equipped with Audi connect®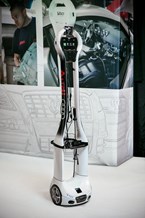 Audi Robotic Telepresence, or "ART," is streamlining the service floor, so maintenance will no longer be a chore. The first technology of its kind among automakers, ART creates one-on-one virtual links between Audi Technical Assistance...
Articles
Articles
Articles

Many car drivers use their vehicle every day, but from time to time it's necessary to consider long-term storage. Some people don't use their car over the winter months or need to leave the country for a while, and this means that it's time to store...
Are you one of the many drivers who never thinks about tires until they go flat? By taking simple action, you can extend the life of your tires and determine when you need to buy new ones. This helps you avoid the danger and inconvenience of flat...
Keep calm and stay aware
It's important for drivers to understand what to do if their car loses traction. Here are some tips.
Bring us a competitor's lowest advertised price on in-stock tires and we'll meet or beat their price!

Must be a local competitor - no internet prices or warehouse clubs.

Tires must be same manufacturer SKU# and model new tires.

Not to be combined with any other offer.

Unless indicated, all coupons are dealer promotions and are NOT direct from manufacturer.

Lube, oil, & filter change (up to 5 qts.)

Includes FREE multipoint inspection - check tires, brakes, fluids, and more!

Includes FREE wash & vacuum!

Unless indicated, all coupons are dealer promotions and are NOT direct from manufacturer.

Not to be combined with any other offer.

*Some models slightly higher.
Location
Location
Location
Driving Directions
Sales Dept. Hours
Mon-Thu: 9am - 7pm
Fri: 9am - 6pm
Sat: 9am - 5pm
Sun: 12pm - 4pm
Service Dept. Hours
Mon-Fri: 7:30 am - 5:30 pm
Sat: 8:30 - 12:30 pm
Sun: Closed