We think it's fair to say that no one ever sets out to be number three… or number two for that matter; no, we all want to be number one. Audi knows a lot about being number one; in fact, the German luxury automaker recently received top honors as the Best Luxury Brand in the 2014 Total Quality Index™ (TQI) study presented by Strategic Vision.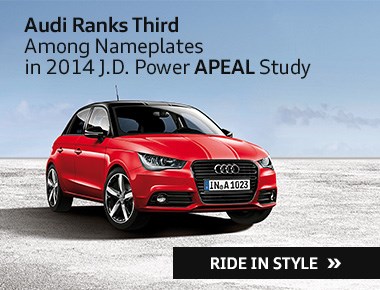 Auto Reviews
Auto Reviews
Auto Reviews

With an emphasis on style and utility, the all-new Audi Q3 is creating a lot of buzz. The Q3 combines a striking coupe-like design with the convenience and versatility of an SUV.
From "Car and Driver's 25 Cars Worth Waiting For: 2014–2017"

A full-size SUV, the Q8 will feature a lower roofline and look more coupelike than its Q7 platform-mate.
Special Offers
Special Offers
Special Offers
Please take note of our Big E hours of operation. And now through the end of the fair, take advantage of our Model Year End Selldown with special BIG E Clearance Pricing. Traffic doesn't get heavy until 10am, so come early or avoid Memorial Avenue until after 2:30 EXCEPT for Connecticut Day (where traffic will be heavy all day).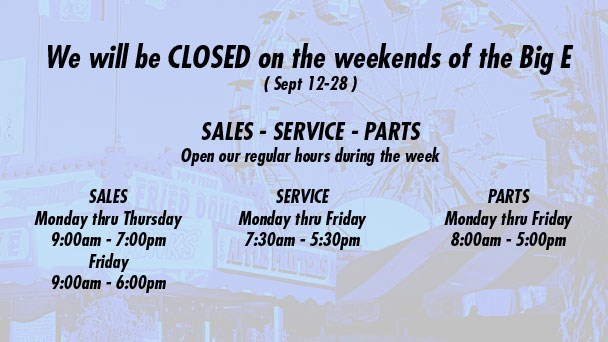 Due to OVERWHELMING response, we have decided to extend our ANNUAL BIG E SUMMER BUYBACK event until 9/30.
Remember, we are closed on the weekends so hurry in during the week to take advantage of these special offers.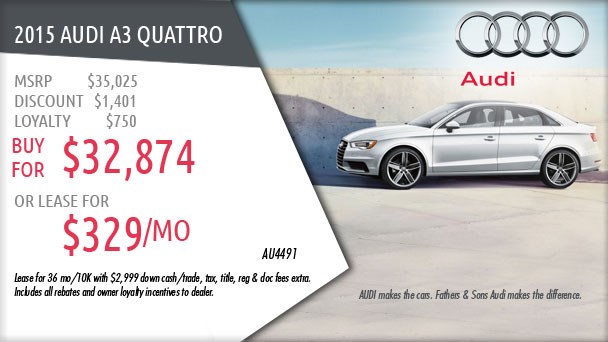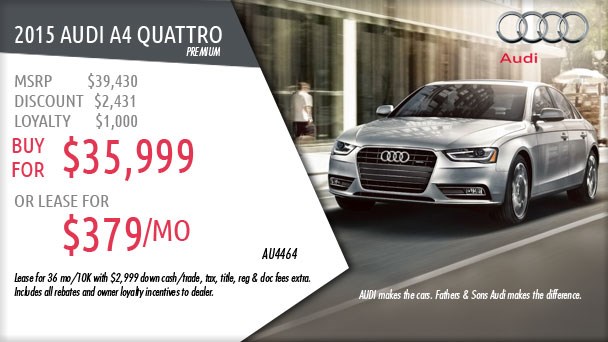 Featured
Featured
Featured
August stands as the 44th consecutive month of record U.S. sales
Sales for the most recent month rose 22.1% to 17,101 vehicles
Audi is joining the growing number of automakers who will make self-driving cars that can navigate heavy urban traffic.

Audi will unveil a system that drives the car in stop-and-go traffic at speeds up to 37 miles per hour.
Audi and AT&T now offer drivers the option to choose a plan that best fits their data needs and lifestyle
- Pricing is set at $10 a month to add a model with Audi connect to an existing AT&T Mobile Share ValueSM plan
- Also available is a monthly data plan for customers with an A3, S3 and Q3 model equipped with Audi connect®
Articles
Articles
Articles
Maintaining your tires' pressure may seem like a chore, and doing so often finds a place at the bottom of to-do lists. But checking your tire pressure is crucial not only for ensuring good fuel efficiency, but also--and much more...
If you're going to spend a lot of money on a luxury car, it's important that you look after your investment. Even with a relatively moderate amount of driving, your car's exterior is going to suffer wear and tear, so you need to do whatever you can...
When you think of gadgets, what comes to mind? Maybe you think of cars, smartphones, GPS devices, or pedometers: all the devices that connect you with the rest of the world while also making your life easier. The trend for the future, though, may...
Lube, oil, & filter change (up to 5 qts.)

Includes FREE multipoint inspection - check tires, brakes, fluids, and more!

Includes FREE wash & vacuum!

Unless indicated, all coupons are dealer promotions and are NOT direct from manufacturer.

Not to be combined with any other offer.

*Some models slightly higher.
Bring us a competitor's lowest advertised price on in-stock tires and we'll meet or beat their price!

Must be a local competitor - no internet prices or warehouse clubs.

Tires must be same manufacturer SKU# and model new tires.

Not to be combined with any other offer.

Unless indicated, all coupons are dealer promotions and are NOT direct from manufacturer.

Location
Location
Location
Driving Directions
Sales Dept. Hours
Mon-Thu: 9am - 7pm
Fri: 9am - 6pm
Sat: 9am - 5pm
Sun: 12pm - 4pm
Service Dept. Hours
Mon-Fri: 7:30 am - 5:30 pm
Sat: 8:30 - 12:30 pm
Sun: Closed